Operaház
Hungarian State Opera House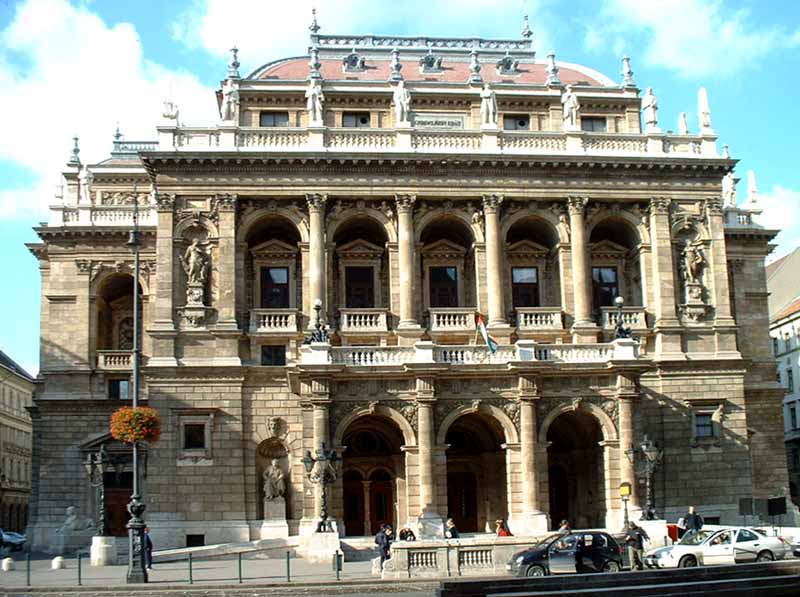 A Magyar Állami Operaház építése ( 1875 - 1884 ) Ybl Miklós nevéhez fűződik. Egyik legszebb neoreneszánsz középületünk. Homlokzati fülkéit Erkel Ferenc és Liszt Ferenc alakja, főpárkányát pedig híres operaszerzők szobrai díszítik Monteverditől Mozarton, Beethovenen, Rossinin, Wagneren, és Csajkovszkijn át Smetanáig, melyek Stróbl Alajos munkái.

The neo-Renaissance style Opera House was built between 1875 and 1884 by Miklós Ybl. The facade opens up onto a projecting porch which supports a loggia. On either side of the entrance there is a niche with a statue of a great Hungarian composer. To the righ is Franz Liszt (1811-1886) and to the left Ferenc Erkel (1810-1893). Erkel was born in Gyula and died in Budapest. He was a talented pianist and orchestra conductor too. He wrote Hungary's national anthem as well as several operas. The concert given at the formal inauguration ceremonies of the Opera House, held on 27 September 1884, was conducted by Ferenc Erkel who among other works, directed the overture to his opera Hunyadi László.
The first floor part of the facade has a five-arched gallery, marked by Corinthian columns. The upper part of the building is also decorated with a balustrade surmounted by statues of famous composers ( Monteverdi, Mozart, Beethoven, Rossini, Wagner, Tchaikovsky, Smetana etc ).
The interior is sumptuous. The main staircase, the lobby, the smokers' hallway, the auditorium ( fresco by Károly Lotz on the ceiling, showing the Apotheosis of Music ), the formal reception room, the royal staircase resplendent with gilding, the wood panelling, the frescoes, the paintings and the marble.
Address
Street: 22 Andrássy út
District: 6th
City: Budapest
Hungary
GPS: N47 30.141 E19 03.527